The shipping policy applies to parts shipped via our 1-day or 2-day service. Cutoff times for 1-day (Overnight) and 2-day orders is 4:30PM EST Monday through Thursday. Orders placed on Friday after 4:30PM or on Saturday/Sunday will ship out Monday morning. The number of days it takes for an order to arrive includes only business days with the exception of holidays.
Ground shipping is always free and can be very fast! See the map below to get a better estimate for your location.
Shipping delays caused by FedEx due to uncontrollable events such as extreme weather or natural disasters are excluded from our shipping guarantees.
The Fast or it's Free Shipping policy applies only to parts available in the US. On rare occasions, Orio NA (Saab Parts NA) relays to us that they have product in stock in the US, only to update us after the order that the parts are actually not in stock and only available from Sweden. In these cases, you will be notified after your order. In these situations, the Fast or it's Free Shipping policy does not apply.
Shipping Rates
Shipping rates vary based on the weight of your order. Unless it is a special order or has restrictions already brought to your attention, your location in the continental US will not factor into the rate.
Ground Shipping Info
Ground shipping is carried out by FedEx Ground and YRC (for oversized items like bumper covers, windshields, ect). Similar to Overnight/2-Day orders, Ground orders have a daily cutoff for same-day shipment, however the cutouff for Ground orders is 12:00pm (Noon) CST.
Once you receive your tracking number from us, you can use this reference map to estimate FedEx Ground delivery times to your address. The map is for orders which are drop shipped directly to you via FedEx Ground (non-freight) from the Saab Parts NA / OrioNA warehouse in Bethlehem, PA.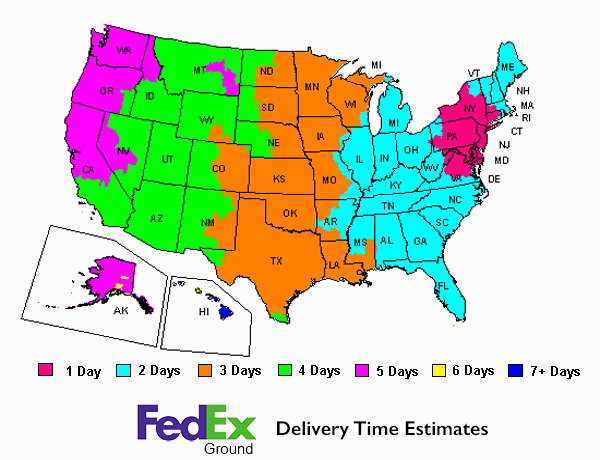 ---
Parts Available in Sweden
Arrival times for parts shipping from Sweden can vary greatly. Depending on the part, it can take 1-4 weeks, with longer times possible for very rare or low demand parts.
At any point prior to you receiving notice from us that your part has shipped, you can always cancel your order by contacting Customer Service. Your credit card will be charged at the time of the order, so in the event of a cancellation, we refund you with a credit back to your card. Return credits can take 2-7 business days to reach your bank account.